Where do rich people buy luxury furniture
Interlübke: Innovative luxury furniture without pompons and gold brocade
Expensive, exclusive and modest: the design from Interlübke focuses on beds and cupboards in the upper price range. The furniture makers attach great importance to high-quality pieces that tend to express an understatement on the part of their owners.
If you like to keep your living room and bedroom furniture simple and clear and attach great importance to high quality, you don't have to leave the country in search of the dream furniture. According to the Italian and Scandinavian designers, they know what stylish and exclusive furniture should look like. In the middle of Germany is the Interlübke house, which specializes in luxurious furniture with clear lines - every design made in Germany, of course.
Contemporary design and understatement
The Interlübke product range is primarily geared towards living room and bedroom furniture. The abbreviation "Inter" stands for "Interieur", "lübke" refers to the family name of the two founders Hans and Leo Lübke. Starting out as a special factory for polished bedrooms, the German furniture makers have been producing premium quality pieces since 1937.
The result is high-quality furniture in a contemporary design that gives its owner an expression of understatement. There are cupboards that don't show their age. They look light, but not filigree, are white and have simple doors. Somehow they seem timeless. And they should: "Clarity in the design language and high quality in production, these are our brand contents", said the late managing director Helmut Lübke about the cupboards from 1964.
These white, timeless cupboards are still part of the Interlübke portfolio today. Over time they have been revised several times, the clarity of the design has remained. The new generation of the cabinet system - as it can be bought at GÄRTNER Möbel in Hamburg, for example - hides numerous innovations behind a purist facade that cannot be seen from the outside. The motto is: You don't show what you have cheekily.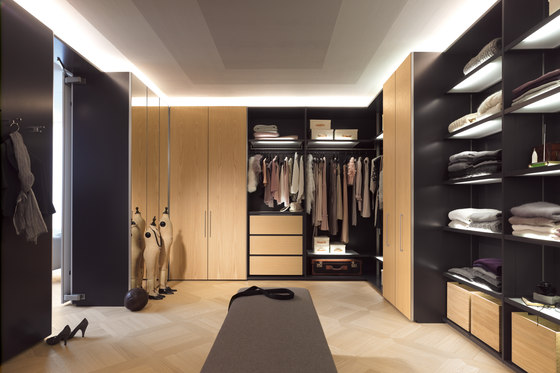 Clothes get a portion of fresh air
The many interior dividing details surprise again and again: There is a hanging option for boots, a storage space for jewelry and watches and a device on which ties, scarves or belts can be kept close at hand and in a space-saving manner. And not to forget the clothes lift, with which you can easily access everything, no matter how high the closet is. Or the swiveling flat screen for all technology lovers, which comes out or disappears at the push of a button. There is also a ventilation and scenting system that gives the clothing a portion of fresh air or a pleasant scent.
Of course, these innovations have their price: Depending on the customer's wishes, a cupboard with such an interior can quickly cost 15,000 euros and more. But you also get something unique in return, a perfectly fitting counterpart to any designer mass furniture from the high shelf.
Pictures: www.gaertnermoebel.de